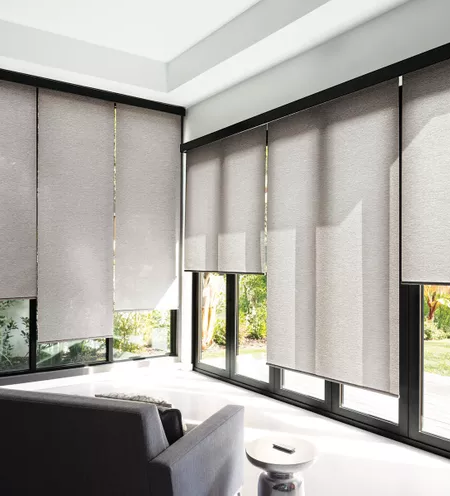 Roller & Solar (Screen) Shades
Ranging from 1% to 14% openness (the higher the openness the more visibility) Solar shades are the ideal window treatment to provide UV protection for your furniture while keeping visibility. For additional light filtering or Blackout options, Roller shades come in a variety of opacities. Sheer, semi Sheer, semi-opaque and opaque fabrics with many colors and textures to choose from.
For complete darkness, side and bottom channels can be added to prevent light from entering the room. A sleek and clean look, Roller/solar fabrics can be implemented as either a horizontal shade or as vertical sliding panels (for sliding glass doors).
Manual
Motorized
Smart Home
Horizontal or Vertical
Various Visibility percentages
Cellular (Honeycomb) Shades
Known for their outstanding insulation qualities, Cellular shades are the ideal window treatments for keeping cool air in and hot air out. Lightweight fabrics enable Cellular Shades to cover large and tall expanses. Minimal stack keeps the unobstructed view.
Manual
Motorized
Smart Home
Horizontal or Vertical
Various Visibility percentages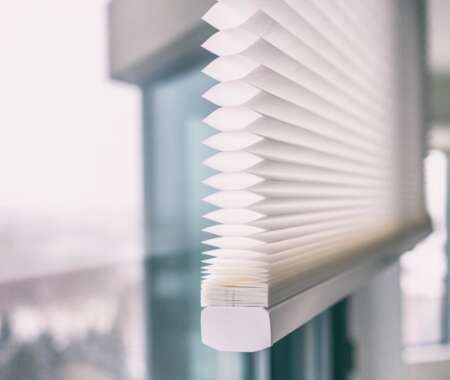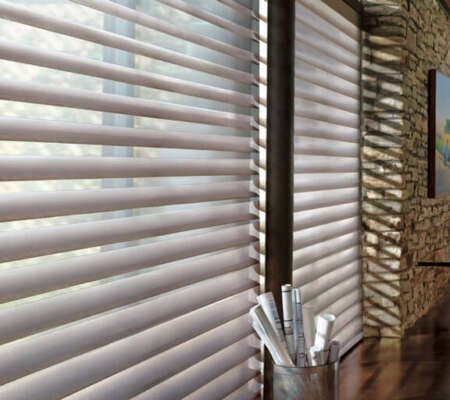 Incorporating the functionality of blinds with the modern soft look of shades, Sheer shadings are an upgrade of both. Giving you the ability to control the light coming into your space, providing privacy when needed, and constant UV protection for your indoor items. Soft fabric vanes seemingly "floating" between two sheer fabrics, sheer shadings complement any interior design effortlessly.
Manual
Motorized
Smart Home
Horizontal or Vertical
Various Opacities (Sheer, Light Filtering, Room Darkening)
With an endless variety of fabrics, Roam Shades easily accentuate your unique interior decor. Rolling style , where fabric rolls into headrail to leave view unobstructed, for a more contemporary look, or the traditional Stacking style to add depth and sophistication to your windows. Regardless, Roman Shades deliver the wow effect with their rich impression.
Custom fabricated to your specific openings, light filtering or room darkening lining can be implemented to meet your needs.
Manual (Corded or Cordless)
Motorized
Smart Home
Specialty shapes
Top-Down / Bottom-Up
Various Opacities (Light filtering, Room Darkening)
Transitional (Zebra,Banded)
Shades
Alternating sheer and opaque fabrics provide ultimate light control. When veins are aligned, filtered light travels through the sheer fabrics. When overlapped, opaque fabrics ensure privacy and room darkening qualities.
Manual
Motorized
Smart Home
Horizontal
Various Opacities (Sheer, Light Filtering, Room Darkening)